No matter what your niche is, Ads of your competitors are going to be one of the most helpful learning tools always. What Runs Where can help you get started with competitor's Ads tracking across 40 different online advertising networks. Along with reviewing your competitor's advertising strategies across these networks, you can also get alerts with every new ad of your competitors.
Do you want to know more about What Runs Where tool? Let's have a look at the details below to know how it can help you to spy on your competitor's advertising campaigns in the best possible way.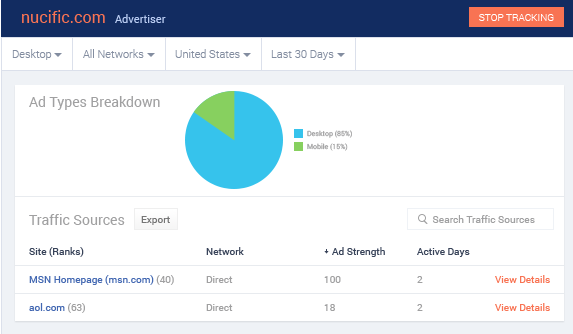 What Runs Where: Spy on your competitor's best ads
Here are the features of What Runs Where to develop amazing advertising strategies with ease:
Unparalleled ads insights
What Runs Where is offering access to comprehensive ads data insights that will certainly let you develop profitable Ad strategies. This tool offers the most accurate and up to date data of your competitor's advertising campaigns to get a bigger picture of the available landscape.
It will give you proper details about the amount spent and output of the results coming from your competitors campaigns.

Powerful competitive analysis
Are you unsure about which text or pictures can drive conversions? You can get to know it by spying on your competitor's ads. What Runs Where can let you know which traffic sources; ads campaigns and networks are giving your competitor's the best bang for their bucks.
Whether you want to get a digital marketing landscape's high-level snapshot in your market or want to get intricate details of your competitor's ads campaign, What Runs Where can offer you access to a host of competitive marketing analysis tools to eliminate the guesswork and begin finding and developing advertising strategies that can work great for you.
You need to be consistent in the implementation if you really need to see quality results. You should do things fast in order to beat your competitor.
Get insights of top affiliates and brands
What Runs Where can help you to see top performing ads across the web. It can also provide you the ability to segment between affiliate campaigns and big brand's marketing campaigns. You can also filter these ad campaigns to make the most out of these in the best possible way.
What Runs Where can let you discover winning strategies in a more effective way. Access A to Z of your competitor's Ads campaigns with What Runs Where including top sources, landing pages, networks used and much more to discover buying strategies with few clicks only.
You can get crucial updates about your competitors as it will give you exact match data of the campaigns.
What runs Where can provide you a quick yet effective as well as easy to view top ad campaigns across competitors.
You can even break the results by types of ads, types of devices these are being displayed on, geographic targeting and much more.
Powerful Ads analysis can make it easier to find out images and texts that can let you build a profitable advertising strategy more effectively.
It can let you find the best performing ads with ease in your industry.
You will get the opportunity to know the incoming and outcoming date of your competitors' strategies.
Final Verdict:
Overall, this is one of the best spy ads tools that can let you access the most accurate ads insights of your competitors. You can easily get a step ahead in your PPC campaigns by analyzing your competitor's advertising strategies with this tool.